Parking Ramp Warning Sign Description
This horizontal CAR COMING Sign is a self contained system that warns pedestrians of vehicles exiting parking garages or other blind spots. When a vehicle is detected, the CAR COMING SIGN activates a Visual Flashing Alert and a Voice Message stating "Attention, vehicles exiting. Watch for vehicles." The alert system works to warn distracted pedestrians and drivers.
See how a Pedestrian Alert System Works!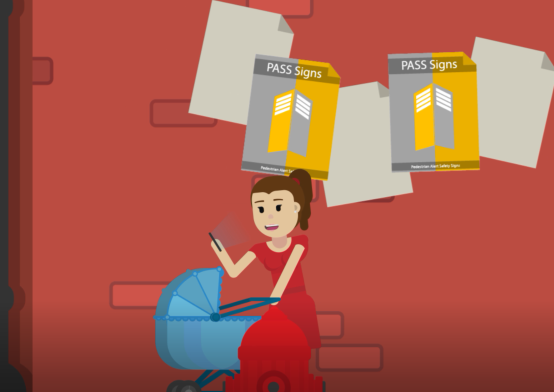 Prioritizing Pedestrian Safety
Parking Ramp Warning Sign Information
Parking Garage Exit Warning
 The Engineering is Done!
All PASS Signs, including the CAR COMING Sign, come fully equipped with a PASS Controller built internally into the sign enclosure. The PASS Controller provides a complete control system without having to purchase a separate enclosure and control devices.
Alert Timers
Voice Alert Board with Volume Control
Built-In or External Speaker
Relay outputs
Trigger Input (Normally Open Dry)
12VDC Auxiliary Power for loop detectors and motion detectors
Our Pedestrian Safety Signs & Products
Parking Exit Alert Sign
Applications:
Parking Garage Exits
Emergency Vehicle Exit
Size: 40″x8″ Wall mounted
Alert Style: Voice Alert, Flashing Letters, Flashing Amber Lights

Driveway Alert Sign
Applications:
Driveways
Fast-food drive thrus
Blind Alleys
Size: 18″ x 6″ Wall mounted
Alert Style: Voice Alert, Flashing Letters

Bollard Alert Post
Applications:
Physical Barrier
Parking Equipment Islands
Size: 48″ x 6″ Ground mounted
Alert Style: Voice Alert, Flashing Amber Lights

Vehicle Moving Warning
Applications:
Truck Docks
Loading Centers
Taxi Stands
Size: 40″ x 8″ Wall mounted
Alert Style: Voice Alert, Flashing Letters, Flashing Amber Lights

Bus Station Exit Alert
Applications:
Shuttle Stops
Bus Stations
Size: 40″ x 8″ Wall mounted
Alert Style: Voice Alert, Flashing Letters, Flashing Amber Lights